Looking for that right book to get someone for the holidays or something to dig into yourself? Here's a list of suggestions for holiday ya lit reads and there's something for everyone. Some of these books are known, while others you may not have heard of but you should definitely give them all a look, especially if you enjoy Young Adult Literature as much as I do.
For the YA Fantasy/Mythology/History Lover: The Secrets of the Immortal Nicholas Flamel by Michael Scott
If you are a Harry Potter fan like me, then the name Nicholas Flamel probably grabbed your attention, but what a lot of people do not know is that J.K. Rowling borrowed Nicholas Flamel from history (he's a real guy google him). But aside from Flamel, the use of magic and prophecy and the page turning read, the similarities between the two series deviates there. The Flamel series, is a wonderful, action packed, magical adventure centered around fifteen year old twins Sophie and Josh Newman, who soon learn they might be the twins of legend mentioned in an ancient prophecy in a magical book called the codex, which is guarded by Nicholas Flamel. At the onset of the series, the evil Dr. John Dee steals the book from Flamel, and Flamel takes it upon himself to awaken the magic in the twins and train them in various forms of elemental magic. This series is fast paced taking place over the course of two weeks, and author Michael Scott masterfully weaves characters together from history and numerous mythologies. In fact every character except the twins is someone that can be looked. If you are looking for a post Potter read, this is it. The first five books The Alchemyst, The Magician, The Sorceress, The Necromancer and The Warlock are out now and the final book the Enchantress is due out in May 2012. And if that wasn't enough to keep you busy for a while, there are a couple of short stories related to the series available in eBook format, and an offshoot series loosely linked to the Flamel series entitled Earthlords is due out in the next year or two. You can watch the book trailer for The Alchemyst here.
(And shameless plug if you've read the series, then you must check out the official fansite
http://www.flamels-immortal-portal.com/
complete with news, a podcast, and forums that Michael Scott visits)

For the YA Paranormal Romance Lover:
Falling Under by Gwen Hayes
Gwen Hayes knows romance, and Falling Under is her debut novel to the ya paranormal romance scene. Falling Under is a unique twist on the typical paranormal romance. You wont find vampires, werewolves, angels or zombies in this book which is one reason its so refreshing. I know you aren't supposed to judge a book by its cover but this book has an absolutely gorgeous one that is just as beautiful as the romance written inside it. Theia Alderson leads a sheltered life, but one part of her is free from that, her dreams. And when the mysterious boy she's dreamed about shows up in her school, she is naturally intrigued. She is inexplicably drawn to Haden, but in the real world he wants nothing to do with her. So every night when she closes her eyes, Theia draws closer to him but is pushed away when her eyes are open. What is Haden and why does Theia feel such a strong pull to him? Why is she falling under his spell every night? You'll have to read to find out more. The sequel Dreaming Awake comes out just after the holidays on January 3, 2012, and its cover is equally as stunning as its predecessor. You can watch the book trailer for Falling Under here.
For the Middle Grade Fantasy Lover:
Emerald Atlas by John Stephens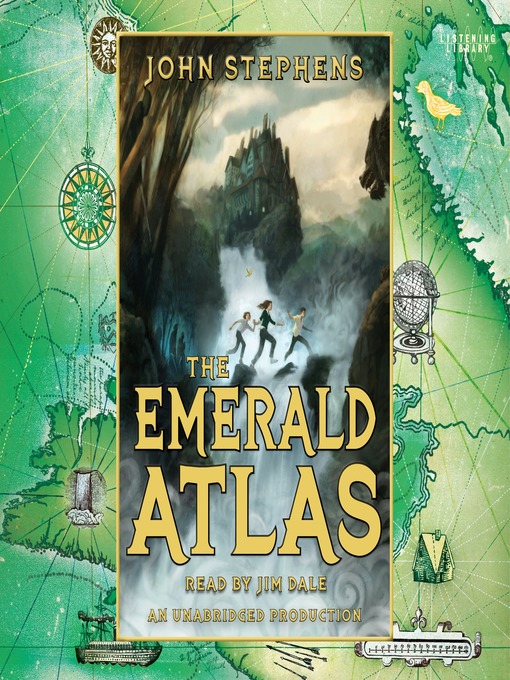 John Stephens is a new author on the scene but you might know him from his previous work in tv. He wrote for both Gilmore Girls and Gossip Girl, so his debut middle grade novel Emerald Atlas is one to check out. Emerald Atlas is a fantasy adventure about 3 children Kate, Michael, and Emma, who are "orphans", I use the term loosely because their parents are not dead but lost. They are whisked away in the middle of the night from the parents and transferred from orphanage to orphanage until they end up at the home of Dr. Pym. In Dr. Pym's house the children find a magical atlas that allows them to travel into the time of photographs when they are placed into the Emerald Atlas. Along the way they encounter dwarves that end up aiding them and an evil countess that is involved in a plot to acquire the magical atlas. This book has the feel of Narnia, combined with a splash of lemony snicket, and the prologue read very much like Harry Potter. So if you are looking for magic with adventure and a splash of time travel, Emerald Atlas is a book to check out. When all is said and done it will be one of three in the Books of Beginning Series. You can watch the book trailer here.



For the YA Dystopian Romance Lover:
Matched by Ally Condie
Cassia Reyes has just been matched with her perfect mate, her best friend Xander, which in her world is nearly unheard of. Most perfect matches live in different cities and meet slowly over time but Cassia has known Xander her whole life. She lives in a near perfect world that has eliminated disease and crime. So why classify this as dystopian? Well it reminded me a bit of the world in The Giver. Every aspect of Cassia's life is controlled, specialized. Her meal comes to her house ready to eat in the right portion. School, work and "free time" is scheduled for them, and their society is tightly controlled by officials. They don't run or yell, they keep even tempered at all times, and their lives end on their 80th birthdays. If you or I lived in this world we'd probably be miserable but these people at the onset, don't know what they are missing. Early on in the story, Cassia plugs in her microchip from the matching ceremony to learn more about her match Xander and another boy's face mysteriously pops up on the screen. Another boy she knows and grew up with, Ky Markham. When the society tells her its a rare glitch she begins to doubt her life and the society. Things slowly start to unravel and she even starts to fall for Ky despite deeply caring about Xander. A beautiful and confusing forbidden love begins to develop between Cassia and Ky. Matched is truly wonderful and gut wrenching, as Cassia decides between Xander and the society life she has always known to be right, or following her heart, her gut, and what feels right when she is with Ky. And if you've finished Matched, Crossed the second book made its debut on November 1, 2011. You can watch the book trailer for Matched here.

For the YA Sci Fi Lover:
Quantum Prophecy by Michael Carroll
If you like action, scifi and a fast paced read then Michael Carroll's Quantum Prophecy series is for you. In the first installment The Awakening, we learn that Superhumans used to help protect the world, but in the height of their reign they mysteriously disappeared. Ten years later a new era of superhumans is rising. Danny Cooper and Colin Wagner discover that they are children of the original superhumans and are developing abilities of their own. When they are kidnapped and used in a plot to rid the world of superhumans forever, they join with past heroes and fight back to try and save the superhumans. This series is an enjoyable read for all ages that is hard to put down and one that young boys would especially like. The series continues with The Gathering and The Reckoning and also has prequels Superhuman, Ascension, and Stronger which is due out summer 2012. A book trailer with information on the first two books can be found here.

So why these books out of all the ya genre? Well they are all books that I found to be refreshing, thoroughly enjoyed, couldn't put down, and wanted to share with others. Plus I've met three of the five authors and they are all as wonderful as their books. When I meet great authors, I love to share their amazing stories with as many people as possible. This list should keep any reader busy during the holidays, and provides great gift ideas for the book lovers in your life. I'd love to hear some of your holiday reads suggestions. What great books do you want to share with others?

Happy Holidays and Happy Reading!